Keith Walsh - Solicitor, Mediator & Collaborative lawyer, Irish Law Awards Family Law and Mediation Team/Lawyer of the year 2017 and 2018, Dublin Family Lawyer Award, 2019 
Keith is an experienced solicitor who is interested in ensuring that the rights of his clients are diligently defended and protected. 
Keith has practiced in the area of legal separation, divorce in Ireland, relocation, civil litigation and family law cases with an international element since 2001.
In February 2017 he and his team in Keith Walsh solicitors were nominated by their peers for the Family Law and Mediation Team/Lawyer of the year Award in Irish Law Awards 2017 which they won based on their work over the past number of years.  They won the same award again in 2018 and in 2019 were honoured to win the Dublin Family Law and Mediation Team Award. 
With his emphasis is on bringing value to clients and achieving an excellent result, he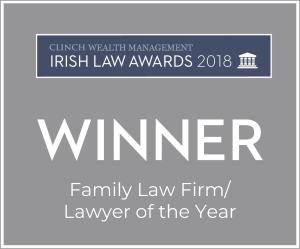 offers practical and constructive advice to clients which helps them to resolve their legal issues in a fair and reasonable manner and to get on with their lives.
He recognises that legal costs must be transparent and estimates legal costs in a clear manner at the start of every case and advises clients as to the likelihood of recovering their legal costs from the other side.
In almost every single case it is in the client's best interest to make a fair settlement at the earliest opportunity rather than get involved in expensive protracted court appearances.
In his legal separation or divorce in Ireland cases for self employed business people or when acting for husbands or wives of business people or professionals with a high net worth, Keith will work with a well established team of forensic accountant, barrister, auctioneer and pension specialist. In more straightforward cases where a person is employed such a team is not needed. Keith acts for those seeking recognition of a foreign divorce, seeking a relocation from Ireland with their children or in other international family law cases.
He has been recognised as a leader in family law in Ireland and appointed to the Law Society's Family Law Committee. He is a past Chairman of the Law Society of Ireland's Child & Family Law Committee.
He regularly delivers seminars and talks on legal issues in family law. He is a regular contributor to the DSBA Parchment quarterly, the Law Society's Gazette, the Legal Aid Board's publication Legal Ease. He has also written on family law for The Review which is the monthly publication of the Family Lawyers Association - Resolution for England and Wales.  
Keith also acts in some employment law and personal injury cases and has over 15 years experience.
He holds honours degrees in Bachelor of Commerce and Bachelor of Laws (L.L.B.) from University College Galway, a Diploma in French Legal Studies from the University of Poitiers, France and a Diploma in Mediation from the Law Society of Ireland. He is a mediator and member of the Mediators Institute of Ireland. He is also a collaborative lawyer trained in collaborative law.  
He has taught and lectured on the Advanced Course [solicitors professional training] run by the Law Society. He is a former chairman of the DSBA's Family Law & Minors Committee. He received the DSBA's award for excellence in 2002/3.